"The support we have received has been brilliant. More than you know, you have all supported us and helped us to rise beyond the ashes. Thank you."  Those are the words of Christine and Chris Watts from Blue Sky Organics (above left pic – with Ian Watts on the right). Over the past two weekends, our first volunteer project has taken place with the Watts family from East Gippsland.
Fire burned through 95% of the Watts' farm near Buchan, East Gippsland on New Years Eve. When they were allowed back onto the property a week later, they discovered that miraculously the fire had gone around the shed holding their drying garlic crop, along with their historic cottage and Fergie tractor. But nothing else was spared.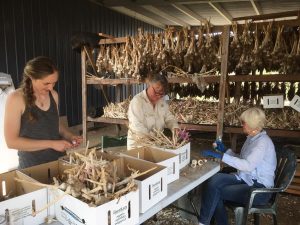 Penny Kothe, ORICoop Volunteer Coordinator extraordinaire (that's Penny above in the middle of right hand pic), pulled together a team of a dozen volunteers to travel to East Gippsland and camp out for 4 days to help process the garlic for market. Together we snipped and cleaned 600kg of organic garlic!
CERES Fair Food has been a Blue Sky Organics garlic supporter since day one – Chris Ennis has written wonderful reflections on the Blue Sky Organics story so far: The Healing Process and Open Hearts – a must read, both of them! And, you can see more of the Blue Sky Organics farm and their farming principles in this video.  It has been a privilege to be involved in the start of the recovery process for this family and their organic business.
As Christine Watts says, "The challenge for people after the fires is going to be the ongoing trauma. After all the initial attention fades people will feel forgotten – that's why we need to keep coming together to heal."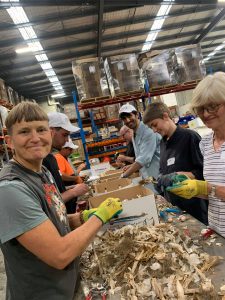 Last Saturday, the project continued in Preston at the CERES Fair Food warehouse, with a whole new team of volunteers (pictured above), to process the elephant garlic that was discovered to be heat damaged from the fires during our first weekend on the farm. ORICoop has supported Blue Sky Organics to find an alternative market for the elephant garlic – originally intended as seed garlic.  Now perfect as a food grade garlic – ready for a creative product!  Special thanks to Mohammed (pictured below) – for his generosity of spirit in managing the day at CERES, and rallying more volunteers from their packing team for the week, to see the Creole garlic fully completed by the end of the week.  We cannot thank you and your team enough!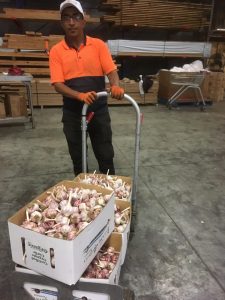 Reflecting on the previous weekend, Christine wrote: "These gorgeous people, whom we didn't know before Thursday, held our hands and hearts as we realised our normally brilliant elephant garlic was not suitable for it's normal purpose. The fires continue to take their toll for so many people who thought they were nearly through the worst of it.  "They also helped us see there were solutions. Solutions that no doubt we would not have imagined possible amidst the busyness of recovery.  "The greatest gift we received over this time, and as a result of the fires, is connection"
On our first volunteer weekend over 75% of the volunteers' food was donated – almost all organic, locally grown and direct from producers across Victoria!   Special thanks go to Christine Li – our incredible volunteer cook.  And to CERES Fair Food, Hazeldean Farm, Timbarra Farm, Schulz Organic, Tarago Valley, Organic Angels, Loafers & Dench Bread, Crofter Dining, Peninsula Organics, Zankers Organic Ways Eggs, High Country Eggs & All Things Natural for their generous donations of organic food!  Plus Rodwells & Yenckens in Mansfield for gloves and secateurs. And thanks also to CERES & Baw Baw Food Hub for their generosity as central collection points!
We will continue to work together to help organic and biodynamic farmers affected by the bushfires.  We have been grateful to those in the organic industry that have walked beside us to support these farmers. Ben Copeman from Southern Cross Certified met with these farmers from East Gippsland last week, to help them with free organic certification amidst the complexity and cost of fire recovery.  And  volunteered to assist these local farmers in their long recovery journey back.  His heartfelt response was simple – he will never forget the generosity shown to him when their farm was burnt all those years ago.
The real challenge for these farmers is in long-term support, and real support happens slowly, for long-term recovery. That's why we're planning to return to Blue Sky Organics and East Gippsland in winter, to help regenerate the oasis of land with native plantings. 
Our next volunteer projects are coming up at Prana Produce in Braidwood, where we are looking for longer term volunteers.  And Ontos Organics in East Gippsland, together with Adelaide Hills and Kangaroo Island to come shortly. Register here if you'd like to be on the mailing list for these and future projects to support farmer recovery.
Join us on Instagram!
ORICoop has launched a new Instagram account specifically for the Organic Farmers Bushfire Appeal – check it out here. You can see more of our first volunteer project with Blue Sky Organics, the incredible events that continue to happen and partners that are joining the Appeal. We will be sharing more farmer stories, volunteer projects, and joining in the conversation about recovery, regeneration and positive community led direct action here and on our blog.
A few more shout-outs!
Great to see people out there fundraising for the Organic Farmers Bushfire Appeal right around the country and beyond. In Perth, Organic Grocery Store, Dunn & Walton sold coffee and scrolls with 100% of sales to the appeal recently – thanks so much! Over in Harcourt, Victoria the Gung Hoe Growers have put together a sold out Luscious Local Bushfire Fundraiser, with many Central Victorian producers chipping in – it's going to be a feast and many donated local goodies are up for grabs on the night in the raffle. In the Adelaide Hills, The Organic Market & Cafe has been raising funds at the store for the past month – thanks Bron and Graham and all your customers! 
And in Paris this week, Tasmanian fermentation guru Adam James came together with a group of friends including Australian chefs James Henry and Shaun Kelly to cook a special dinner with proceeds to both the Appeal and Firesticks Alliance. Not only that – the group are holding a silent auction, with many generous and talented people donating goods and their time for unique experiences to be bid on – including a private farm tour and lunch at James and Shaun's La Ferme du Doyenné farm project, with bidding currently sitting at 720 Euros – amazing!
Thanks everyone for your support!  And make sure you keep up to date with our next steps via our blog HERE and the Organic Farmers Bushfire Appeal
Amy, Carolyn, Penny & the team at ORICoop