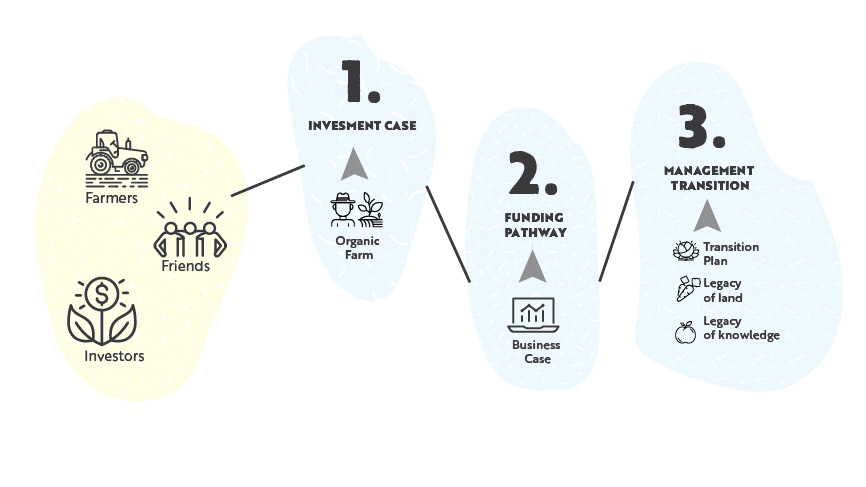 We aim to increase the amount and profitability of organic and biodynamic farmland around Australia!
We preserve organic farmland that will make it accessible to the next generation of organic farmers. ORICoop works to preserve the legacy and land ownership of organic & biodynamic farms across Australia.  ORICoop is interested to hear from existing organic farmers, retiring landowners, and absentee landholders that own farmland and are interested in it being farmed organically for the long term.
We help aging farmers consider their options for their property and family legacy.
We work with strategic partners to enable long term transition pathways to clearly define the family legacy, exit, and growth parameters for the next generation.  This enables experienced people who are looking for more land to grow more food and to enable land to be better utilised and improve over time.  We work to see land farmed to it's highest and best use, and mitigate the exit of Australian families owning farmland.  ORICoop will work alongside you and your farm business, to enable a long term and planned outcome of farmland being fully utilised, delivering fair returns that won't cost the earth!
We bring together organic and biodynamic farmers from across commodities, regions, and states.
We bring together farmers, like-minded investors, and landholders with the long term intention of preserving farmland and achieving fair returns for investors and farm managers in the high demand organic agriculture sector.  This is of particular interest to existing farm operators wishing to expand, diversify, retire or semi-retire, cease active farming, or manage other transitional pathways.   The Australian Organic industry is currently experiencing unprecedented growth and demand for supply, driven by a discerning consumer across Australia.  Consumers place a high value on healthy, safe, and nutritious food produced in a way that preserves our environment, & softens the ecological footprint for future generations. We are interested to see organic farmland preserved for the very long term.  If your family is considering your next steps for your organic farming business then contact us for a confidential discussion.  This can include expanding your existing enterprise, retiring family members or incoming next generation organic farmers.  We are looking for experienced organic farmers, established family businesses and a strong business case to expand to the next level.
Complete the property submission form below or contact us directly.
Key farmland preservation steps include:-
Transition Pathways
Strong Business case
Clear Farm Management Strategy
Organically Certified
Investment Proposition
Farmland details ….…
This is an ORICoop initiative designed to enhance and develop the
organic & biodynamic industry. ORICoop does not receive a fee for making introductions for its members and we do not recommend or warrant investments. Investors, existing businesses and landholders must make their own evaluation and investigation of the suitability of the arrangements according to each circumstance.