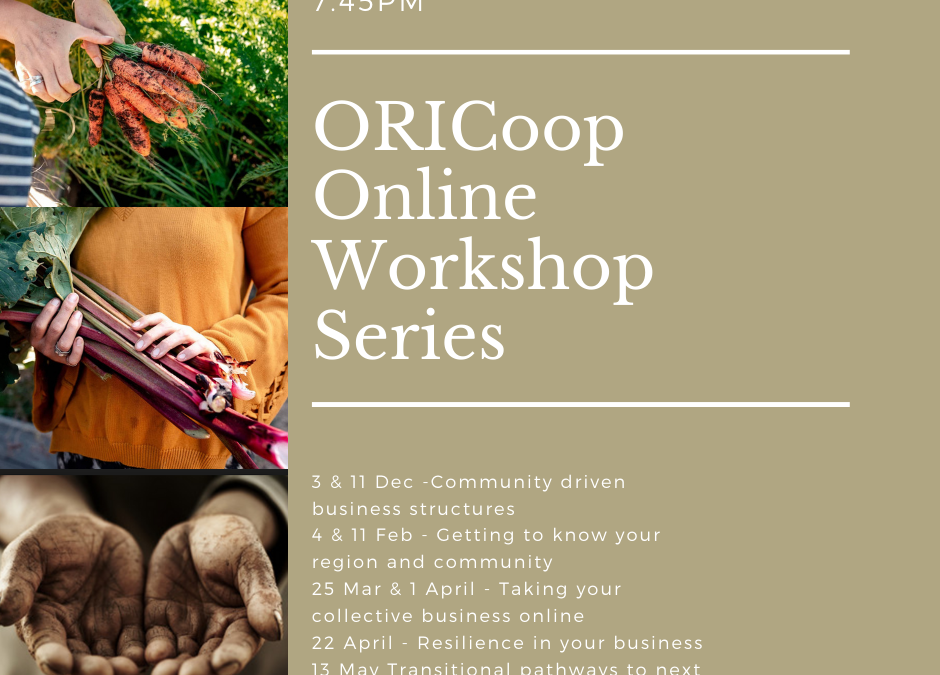 "Never has it been more necessary to find solidarity with those whose values align and more important to garner skills from those who have beaten the path before us.  ORICoop with the support of
BCCM
have created an online workshop series to help us all build skills and community.  With a
90% subsidy
being offered by BCCM, a broad range of topics, guest speakers and interactive Q and A time on each gathering, its a low cost, high value offer that can all be booked and undertaken online by clicking here – book into one or all five"
The Co-operative Farming program offers a 90% bursary for this course. You can find out more and apply at 
https://coopfarming.coop/learn/educational-bursaries/
. Subject to approval, you will receive a discount code that you should apply at the checkout, this will ensure your payment is reduced to 10%.
1. Community driven business structures  – Thursday 3rd Dec 6.30pm-7.45pm 2020 and Thursday 10th December 6.30pm – 7.45 2020
Eager to connect with your fellow growers and find ways to get your food to a local, engaged and appreciative audience. Hear from those who've trodden this path already, hear first hand about their wins, challenges, growing pains and opportunities. Most importantly ask the questions which allow you to consider what will work for you and meet other growers and producers on a similar trajectory.
2. Getting to Know Your Region and Community – 4th February 6pm – 7.45pm and 11th Feb, 6pm – 7.45pm
While every community beats to a different drum, many follow similar patterns and the insights of others who've observed and engaged in community building is a valuable process to support you in your existing efforts or as a foundation of knowledge before you begin.  Meet food system pioneers, leapfrog with their learnings and kickstart or reboot your own efforts to work collaboratively as a whole community.

3.Taking Your Collective Business Online – 25th March and 1st April, 6pm – 7.45pm
While we know the increasing influence of online marketplaces, Covid showed us just how powerful it can be for farmers wanting to diversify their paths to market, work collaboratively and be the price maker for their hard grown produce. Learn practical skills, loopholes and opportunities from those who've done it and specialise in supporting you to do it too.
4. Resilience in Your Business – 22nd April 2021, 6pm – 7.45pm
Business stability is about being diverse yet focussed, nimble yet strategic, committed yet open to change, having an excellent relationship with your market and always looking to the horizon of innovation and adaptation. Learn from farmers who've developed business plans in consideration of these complexities and seek advice and guidance relevant to your specific farming and business needs.
5.Transitional Ownership Pathways to next generation, 13th May 2021, 6pm – 7.45pm
Succession planning is one of the single greatest threats to farming enterprises yet when undertaken successfully, one of the most powerful and rewarding aspects. The complexity of building a successful succession plan is a well trodden path and our expert panel will share a diverse range of case studies of well executed plans, and some of the common pitfalls.
Any enquiries can be sent to admin@organicinvestmentcooperative.com.au