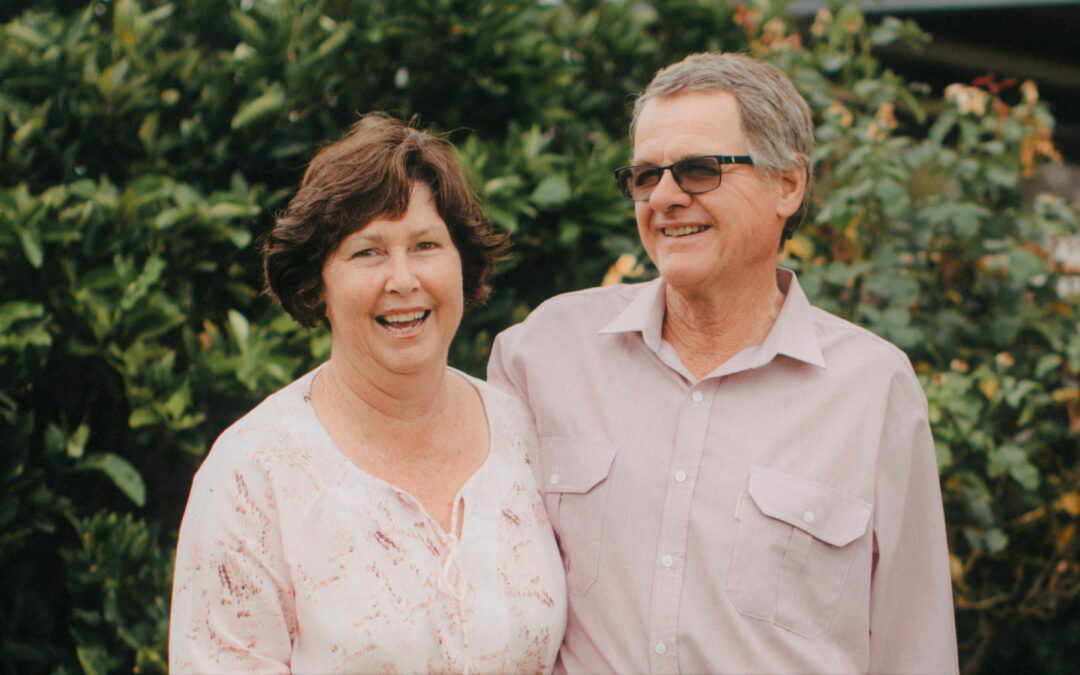 Located on Wiradjuri Country in Peak Hill in Central New South Wales lies two farms belonging
to seasoned biodynamic farmers Ray and Judi Unger. Named Waratah and Marylyn, these
farms feature unique characteristics that make them suitable for different forms of agricultural
activity. Marylyn is formed of heavy clay loam soil packed with rich minerals, making it the
perfect medium to grow cereal crops like spelt, wheat, oats, lupin and pasture.
The fenced tree lines border most of the paddocks on Waratah and create wildlife corridors,
reduce wind erosion, attract bird life and provide fodder to stock during droughts. Waratah
comprises a lighter red ironstone soil type more suited to running their livestock of Merino sheep
for wool and White Suffolk cross for lambs as well as Hereford cattle stock. These distinct but
complementary farm types allow Ray and Judi to run a diversified mixed-farming broadacre
enterprise that offers long-term climatic resilience.
"We have 3,500 acres, and we could nearly crop all that, but we never do," says Judi.
"We only ever crop about a third as the maximum every year because we do crop rotations, so
we try to crop about one [rotation] every eight years, so we're sparing the country, we're not
flogging the soil in the process of growing healthy biodynamic crops and pastures. We're trying
to build up the organic matter and put it into the pasture phase and use it for grazing. It's all
quite entwined."
When Ray's father bought the farm several decades ago, farming systems were rather
exploitative and heavily reliant on chemical inputs, extracting a considerable toll on the already
marginal agricultural land.
"The farm was heavily impacted by cropping and heavy stocking rates," recalls Judi, prompting
the Ungers to consider ways in which they could improve the quality and health of their land and
in turn, their crops and livestock.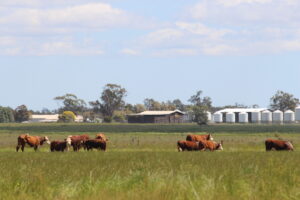 At a conference in Cowra in 1993, Ray heard an organic farmer speak about organic principles and practices and was immediately drawn to the concept. Organic agricultural methods could help produce high-quality agricultural products in a way that protects and improves the natural environment while safeguarding the health and welfare of all farmed species. Without hesitation, Ray and Judi decided to "go cold turkey" on synthetic fertilisers, insecticides and herbicides in the mid-90s and start the journey towards organic certification and farm management.
"I felt this immense weight off my shoulders; we were now in charge of our own destiny," says Judi.
"We didn't need an agronomist. We didn't need people telling us what chemicals need to be
applied and when and where."
Instead, by adopting the organic philosophy and mindset, Ray and Judi committed to learning
and observing their land, soil and biology to grow healthier food more sustainably. Following the
completion of a TAFE course in organic agriculture, the process of conversion took the Ungers
three years, becoming fully accredited with Australian Certified Organic in 1996 and receiving
A-grade certification for the crop they grew that year. Shortly afterwards, they began looking into
biodynamic practices.
Founded on similar principles to organic agriculture, biodynamic agriculture is a holistic,
whole-systems approach to bring plants, animals, soil, ecosystems and people together.
Biodynamic systems aspire to generate their own on-farm fertility through practices such as crop
rotation, composting and integrating animals to enhance on-farm biodiversity, nurture soil fertility
and enable greater farm resilience against extreme weather events. The Ungers have been
practicing relatively consistent methods for more than 25 years.
But the agricultural sector has changed significantly over this time. The deregulation of
agricultural markets, fluctuating government support and investment, the privatisation of
infrastructure and agricultural services, rising costs for fuel and machinery, and increasing
consolidation amongst farms and across the entire food chain have reshaped Australian
agriculture.
"It's changed a lot in the 28 years we've been doing it," says Ray.
"A lot more dairy farmers have gone down the organic track, but then dairying has retracted;
there are fewer dairy farms around because they got bigger, just how most farms got bigger.
Cost of production has certainly increased, as has machinery. We probably wear more
machinery out than conventional farmers. They can spray 1000 acres in a day and I can plough
100 acres in a day. We've had lots of problems, but conventional farmers have had lots of problems too."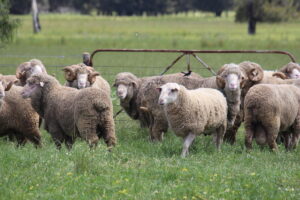 Conventional and organic farming methods have a range of different impacts on soil fertility, biological diversity, livestock health and the health of the farming enterprise.
"We don't have issues that conventional farmers have with bloat and worms. They're in a situation where they go into town to buy something to fix their problem and basically they're told, "If you don't use this stuff, the sky is going to fall!" says Ray.
"Well the sky doesn't fall. I can look back now and see we've been used by the chemical companies. I couldn't even tell you what Round Up costs anymore."
Fluctuating climatic conditions, from the intensifications of droughts and floods, to
unprecedented bushfire conditions, have created increasing pressure on Australia's agricultural
systems and can restrict growing seasons or wipe out entire harvests.
"The current market has been tough. There are more organic grain producers around and we've
had a couple of good years so there's plenty of organic grain about," says Ray.
"It's supply and demand: the current prices [for organic wheat] aren't enough to cover your
costs. In comparison to the droughts of '18 and '19, where [demand was high and] it was very
difficult to buy organic grain to feed livestock. That will happen again when there's another dry
spell."
Ray and Judi have subsequently invested in sealed storage and silos for grain as a form of
on-farm insurance. It grants the ability to store grain in good years and to carry that through to
market when climatic conditions may impact production, and there is less supply of organic
grain. It's another way in which the Ungers can take control of when and where they market
their grain, and into which market they sell.
While grain crops such as cereals, pulses, legumes and oilseeds make up a small percentage
of total organic production in Australia, the organic grain industry has a significant opportunity to
expand with the right market development and indicators. Demand for organic products in
Australia and abroad has been rising over recent years, as consumers are increasingly
considering the health benefits and environmental effects of their food choices. This rising
demand is also motivating manufacturers to make organic food more accessible to mainstream
markets.
The Ungers have been considering new ways to add value to their business and tap into this
rising demand, but need to consider the added costs carefully, whether that be in time,
machinery, or labour of value-adding activities. Cleaning, processing, growing special items,
packaging, milling, storage, or distribution operations can all be considered as "value-adding" to
basic farm commodities like grain.
"I've looked at trying to value-add products; to clean grain and bag it," says Ray.
"But you'd need a fair amount of capital to get that all organised; you'd need to set up sheds,
buy machinery and you'd need to employ someone possibly to run that side of the business. But
that comes with more risk."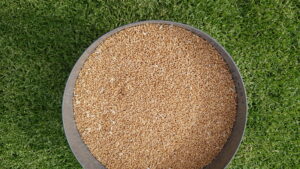 "We're good at what we do, whether that's wool or sheep or cattle or grain, but we're flat out
running the farm as we are. So there's no opportunity without spending a lot more money and
employing more people to go and value-add."
The Organic and Regenerative Cooperative Australia (ORCA) pilot project seeks to determine
the best and most profitable products for organic grain farmers like Ray and Judi, together with
identifying the market, processing and access barriers that could be resolved through better
collaboration, producer representation or investment in storage or processing facilities.
"If ORCA was able to set up a plant to clean grain and then bag it, hopefully, we could get a
better return and share in the profit from that operation," says Ray.
Increasing the availability of local abattoirs for the organic industry is another opportunity for
investment that Ray believes will help farmers in the region.
"30 or 40 years ago there used to be an abattoir in most towns, but now there aren't enough
abattoirs," says Ray.
"Sometimes our stock, our lambs and our cattle, as well as our wool, goes into the conventional
market."
The ORCA project endeavours to unlock some of these barriers and to enable strategic
investment into facilities and technology that will lead to better prices for producers. ORCA
investigates market trends and opportunities while providing farmers with the technology and
data they may need to thrive in the organic grain farming industry. Through a tailored online
platform, producers can achieve the transparency and traceability of organic produce now
demanded by processors and consumers, as well as achieve fairer pricing along the entire
supply chain.
Research, education and innovation are key areas that Ray and Judi believe will help them
manage their farm more efficiently and profitably and the long-term sustainability of the organic
industry more broadly. They suggest that agricultural drone systems, for example, have an
unrealised potential to assist with microbial applications for crops or to support and surveil
cattle, all while minimising fuel costs and further impact upon the soil.
Due to the rural isolation that many farmers face, Judi believes that current information and
education systems must evolve to meet the needs of organic growers and younger farmers
wishing to enter the industry. Different knowledge-transfer activities that are organised by and
targeted at the organic farming sector, will help increase knowledge and skills on organic plant
and animal production, processing and marketing.
"Organic farming is a process of continual learning," says Judi. "Part of it is experimentation and
trialling new techniques and being able to demonstrate what works. It would be great to get a
uni student out on the farm to do a case study and have that research published."
Judi believes that harnessing the in-depth knowledge acquired through decades of practical
experience and translating this into an evidence base that can be shared throughout the organic
industry will strengthen the sector. Testing new approaches and technologies, building and
compiling rigorous evidence about what works, and disseminating this knowledge widely to
farmers, researchers and policymakers can help improve economic and environmental
outcomes for producers. Judi also believes that such education is key to equipping future
generations of farmers with the skill sets required to prosper in the sector and take full
advantage of innovation.
Ray and Judi are taking part in the ORCA project alongside other organic farmers in the
Riverina agricultural district in NSW. Together, these farmers are sharing their experiential
knowledge, insights and networks to collectively grow together and to diversify and build a
better and more resilient organic market. The vision is to strengthen and sustainably grow the
entire organic value chain, with shared benefits for farmers, manufacturers and consumers.
By collectively working through some of the common barriers faced by organic farmers and
unlocking opportunities for greater on-farm profitability, ORCA is committed to improving and
amplifying the benefits of organic, regenerative and biodynamic farming across the Riverina and
the country.
Written by Eva Perroni, as part of the ORCA project